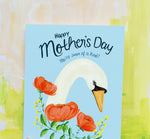 Update February 2020: To keep our environmental footprint as low as possible we're dropping cello sleeve packaging for all online card orders. Boxed sets will get wrapped in tissue paper.For our wholesale clients: We're working on a sleeveless packaging at the moment. Stay tuned!   When we launched our stationery studio, one of our core values was to create sustainable products that use recycled and biodegradable materials as much as possible. Sustainable materials are not always easy to find and often mean higher costs, but we're proud that we've developed an extensive eco-commitment over the years: Use of premium 100% recycled Neenah paper for 90% of...
---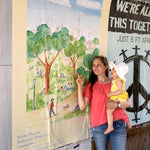 Emi and I standing in front of my huge art work for the art initiative 'Together Even When We're Apart'. Hung up at Queen and Ossington. I was so happy when Regina from Labour of Love asked me to participate in this lovely project. I painted this homage to Bellwoods Park specifically for the project. See all participating artists here: https://thelabouroflove.ca/pages/together-even-when-we
---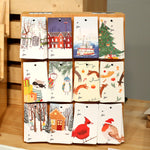 We made it! Our 6th One of a Kind Show and our first with baby! It truly took a village to get through the show this time around, with family coming from out of town, friends loading trucks and many hours from Pauline who helped us on this crazy long ride. Thank you for making this our best One of a Kind yet and supporting our little family. We are so grateful to see so many customers return every year.We truly love exhibiting at the One of a Kind Show and we'll be back next year!